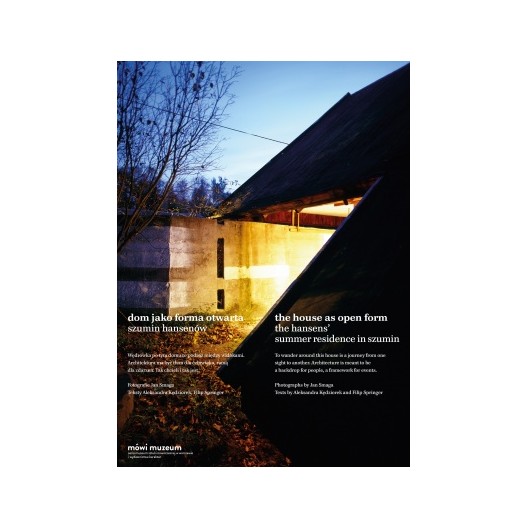  
THE HOUSE AS OPEN FORM: THE HANSENS' SUMMER RESIDENCE IN SZUMIN
The book invites the readers to take a photographic journey through the iconic house of Oskar Hansen, Polish architect, member of Team 10, and his wife Zofia. Located in Szumin in central Poland, designed in 1968 and, under construction from 1968 to 2013, the house is a spatial manifesto of their influential idea of the Open Form.
Garanties sécurité
(à modifier dans le module "Réassurance")
Politique de livraison
(à modifier dans le module "Réassurance")
Politique retours
(à modifier dans le module "Réassurance")
A portrait of the summerhouse of Zofia and Oskar Hansen in Szumin, the fullest realization of the architects' Open Form concept. Only known among cognoscenti until recently, the present book shows it from different perspectives.
Over one hundred photographs by Jan Smaga and texts by Aleksandra Kędziorek and Filip Springer (who drew the Hansens closer in Zaczyn / Mortar, his 2013 book) demonstrate how one can think about space, live in it and create it – or, rather, co-create it. At the house in Szumin, architecture is the "absorptive background" of everyday events. Under construction since 1968, it was just one project born of the Hansens' design ideas.
The unique ambiance is enhanced by traces of their activities and passions, such as didactic tools for teaching the basics of composition, his steel exhibition structure from the Venice Biennale in 1977, now supporting a climbing vine, and the expansive wood dovecote that, as Zofia Hansen used to say, partly in jest, was the most complete embodiment of her husband's ideas.
The Hansens' summerhouse in Szumin is the only Polish member of the prestigious Iconic Houses Network.
From the book
To wander around this house is a journey from one sight to another. This is why the emptiness jars all the more. Architecture is meant to be a backdrop for people, a framework for events.
I look for traces of life, to make up for the glaring void. So, books – they are everywhere. In cupboards, on shelves, on the table, under it, in nooks and crannies. Even in the dovecote. Next, pictures on walls. Graphics, sketches, drawings, photographs. Carefully pinned up. Beach pebbles; he would bring those from all over the world – on each one, a carefully inscribed place of origin. A sweater hanging over the back of a rocking chair. A red blanket, carelessly tossed onto the bed. A tangled curtain, twisted in the wind that had invaded the veranda. In the kitchen, a chopping board, on the range a kettle, pots and pans hanging on the wall. And clothespins spilled in the grass. Chopped wood for when it gets colder. Plus a wheelbarrow full of coal, probably as backup if wet wood refuses to ignite. Fishing rods, arranged neatly below the ceiling of the shed, a fishnet, a broken oar. And that boat. Not much else. 
[Filip Springer, A Spatial Fermata]
Aleksandra Kędziorek (1987) is an art historian and a coordinator of the Oskar Hansen research project at the Museum of Modern Art in Warsaw.
Filip Springer (1982) is a photojournalist and reportage writer. An expert on things architectural and a collector of visual absurdities, Filip Springer is a reporter skilled in conveying the essence of the Polish landscape. He has published four collections of reportage on socialist-era architecture and the Polish landscape, and on the accomplishments of the renowned architectural team Zofia and Oskar Hansen.
Jan Smaga (1974) is a photographer and author of documentary and conceptual photography works. He often works in tandem with Aneta Grzeszykowska creating elaborate photographic installations, focused on the relations between architecture, private space, and the human body.
Fiche technique
Titre

Dom jako forma otwarta

Sous titre

Szumin Hansenów

Auteurs

Aleksandra Kedziorek,Filip Springer

Date de publication

2014-06-27

Éditeur

Museum of Modern Art in Warsaw

Nombre de pages

166

Version

preview-1.0.0

Langue

en

Type d'impression

BOOK

Catégories

Architecture

ISBN - 10

8364177141

ISBN - 13

9788364177149
Références spécifiques
ean13

9788364177149
Aucun avis n'a été publié pour le moment.
16 autres produits dans la même catégorie :